Na ovogodišnjoj konferenciji MECO2020, predstavljen je projekat HighTech ME. Konferencija je održana u hotelu Budva od 8.-11. juna, po prvi put u potpunosti onlajn, pomoću konferencijske platforme zoom, usljed nastale situacije zbog pandemije koronavirusa i mjera zatvaranja granica.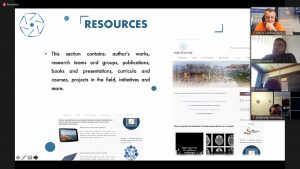 Predstavljanje projekta na konferenciji
Projekat HighTech ME je predstavljen trećeg dana konferencije u okviru sekcije diseminacija projekata, a izlagač je bio koordinator na projektu mr Jovan Kovačević:
"Cilj projekta HighTech ME je podizanje kompetencije mlade generacije Crne Gore u oblasti visoke tehnologije, ostvarujući sinergiju između: obrazovanja, nauke, visoke tehnologije, pametne specijalizacije i preduzetništva, sve u cilju njihovog uspješnog zapošljavanja i samozapošljavanja, i izgradnje profesionalne karijere".
Rekao je i da, u cilju diseminacije znanja, stručnjaci iz odgovarajućih oblasti rade na objavljivanju članaka, a u planu su vebinari i testovi, izgrađujući sa resursima za učenje bazu ideja.
Učesnici konferencije su upoznati sa edukativnim portalom hightech-hub.me, i njegovim sadržajem:
informativnim modulom sa svakodnevnim objavama vijesti o novim tehnologijama i naučnim radovima poznatih istraživača
edukativnim modulom sa multimedijskim materijalima za samostalno učenje
korisničkim modulom za aktivno učešće i povezivanje korisnika
Dalje, bilo je riječi o hightech berzi, koja je od velike pomoći svima koji traže svoje radno mjesto u oblasti tehnologije, kao i za osnivanje malog preduzeća.
U odjeljku "WHO'S WHO", predstavljeni su: institucije, kompanije, projekti i ljudi iz svijeta tehnologije. Korisnici imaju mogućnost prijavljivanja u odgovarajućim kategorijama, u cilju podizanja svijesti o bitnosti i prilikama koje nudi savremena tehnologija.
U odjeljku "Resursi", predstavljeni su: autorski radovi, istraživački timovi i grupe, publikacije, knjige i prezentacije, kursevi, projekti iz oblasti i drugo.
Na kraju svog izlaganja, Jovan je naveo i koji su sljedeći koraci u razvoju projekta. Tu spada: pomaganje novim projektima sa sličnom temom, iniciranje otvaranja Centra za visokotehnološko preduzetništvo na sjeveru Crne Gore, sa poslovnim klubom koji bi pomogao projektu i ideji, kao i nastavak dostavljanja znanja i vještina korisnicima u polju visoke tehnologije i visokotehnološkog preduzetništva, za razvijanje njihovih sopstvenih preduzetničkih ideja, pametne specijalizacije i biznisa.
Prva dva dana pratioci i ljubitelji HighTech.me su mogli da prate seminar o pametnim informacionim tehnologijama, sa posebnim akcentom na Cyber Physical Systems (CPS) i Internet of Things (IoT), kao i seminare iz oblasti pametne poljoprivrede i pametne energetike. Program seminara HighTech.me predstavljao je izabrane radove kao i gostujuće predavače. Neki od njih su:
An Artficial Intelligence Platform for Automated Vehicles, Ralf Herrtwich, NVIDIA
Using Data Analytics to Optimize Public Transportation on a College Campus (youtube), M.M. Dalkilic, Indiana University, Bloomington, IN, USA
SMART4ALL – Technological Challenges and Funding Opportunities in the Areas of Balkans and Eastern Europe, Nikolaos Voros, Coordinator of SMART4ALL H2020 Project
Prospects for electric vehicles and autonomous driving, Amela Ajanovic, TU Wien, Austria
IoT Network Attack Detection and Mitigation, Erol Gelenbe, IEEE Fellow
Precision Viticulture Using Wireless Sensor Network, Vesna Maras, Tomo Popović, Spasenija Gajinov, Milena Mugoša, Vladimir Popović, Ana Savović, Katarina Pavićević and Vasilije Mirović, Montenegro
A Low Cost Energy Efficient IoT Node Utilized in the Agricultural Field, Ioannis Gialelis, Maria Fokaeos, Gerasimos Theodorou, Christos Paparizos and Nikos Tsafas, University of Patras, Greece
Employing OpenCL as a Standard Hardware Abstraction in a Distributed Embedded System: A Case Study, Omair Rafique and Klaus Schneider, University of Kaiserslautern, Germany
Visual Programmed IoT Beehive Monitoring for Decision Aid by Machine Learning based Anomaly Detection, Rüdiger Machhamer, Jannik Altenhofer, Kristof Ueding, Institute for Software Systems (ISS), Germany
Exploring an IoT Dissemination Algorithm with UPPAAL, Boutheina Bannour and Arnault Lapitre, CEA LIST, Gif-sur-Yvette, France
Development Processes in Automotive Service-oriented Architectures, Andreas Vetter (Networking and Software Technologies, Mercedes-Benz AG), Philipp Obergfell (Research, Technologies, and Innovation, BMW Group), Houssem Guissouma (Institute for Information Processing Technologies (ITIV), Karlsruhe Institute of Technology), Marcel Rumez (Institute of Energy Efficient Mobility (IEEM), Karlsruhe University of Applied Sciences), Germany
Cyber-Security Gaps in a Digital Substation: From Sensors to SCADA, Athar Khodabakhsh, Sule Yildirim Yayilgan, Siv Hilde Houmb, Nargis Hurzuk, Jorn Foros and Maren Istad, Norvay
Development of a Cyber-Physical System for an Autonomous Indoor Transportation Service, Matthias Dziubany, Lars Creutz, Sam Kopp, Jens Schneider, Anke Schmeink and Guido Dartmann, Germany
Optimization of a CPSS-based Flexible Transportation System, Matthias Dziubany, Jens Schneider, Anke Schmeink and Guido Dartmann, Gernamy
An Electromagnetic Energy Harvester and Power Management in 28-nm FDSOI for IoT, Shima Sedighiani, Kamlesh Singh, Jos Huisken, Roel Jordans, Pieter Harpe and Jose Pineda de Gyvez, Netherlands
Developing a data analytics toolbox to support CPS-based services, Massimiliano Zanin, Ernestina Menasalvas Ruiz, Alejandro Rodríguez-González, Christian Wolff, Juana Wendt, Elisa A. Herrman and Pavel Smrz, Spain, Germany and Chech Republic
Low-Cost, Self-Calibrating Light Barriers in Sports, Theo Gabloffsky and Ralf Salomon, Germany
Variability-Aware Process Extension for Updating Cyber Physical Systems Over the Air, Houssem Guissouma, Carl Philipp Hohl, Hannes Stoll and Eric Sax, Germany
InFoCPS: Integrating Formal Analysis of Cyber-Physical Systems with Energy Prognostics, Eun-Young Kang and Pierre-Yves Schobbens, Denmark and Belgium
No Resilience without Security, Zoya Dyka, Elisabeth Vogel, Ievgen Kabin, Dan Klann, Oxana Shamilyan and Peter Langendoerfer, Germany
A Machine Learning Approach for the Classification of Disease Risks in Time Series, Lejla Begic Fazlic, Ahmed Hallawa, Matthias Dziubany, Marlies Morgen, Jens Schneider, Marvin Schacht, Anke Schmeink, Lukas Martin, Arne Peine, Thomas Vollmer, Stefan Winter and Guido Dartmann, Germany
Decentralized, Secure and Cognitive Architecture for Automotive CyberPhysical System of Systems, Apostolos Fournaris, Aris Lalos, Petros Kapsalas and Christos Koulamas, Greece and Germany
Fog Computing and Blockchain for Massive IoT Deployment, Abdelhakim Baouya, Salim Chehida, Saddek Bensalem and Marius Bozga, France
MTD Based Novel Scheme for BMS Security against CAN Bus Attacks during BEV Charging, Seta Bogosyan, Tankut Akgul and Metin Gokasan, Turkey
Horizontal SCA Attacks against kP Algorithm Using K-Means and PCA, Marcin Aftowicz, Ievgen Kabin, Dan Klann, Yauhen Varabei, Zoya Dyka and Peter Langendoerfer, Germany
Resilience Aspects in Distributed Wireless Electroencephalographic Sampling, Roman Natarov, Oleksandr Sudakov, Zoya Dyka, Ievgen Kabin, Oleksandr Maksymyuk, Olena Iegorova, Oleg Krishtal and Peter Langendörfer, Germany and Ukraine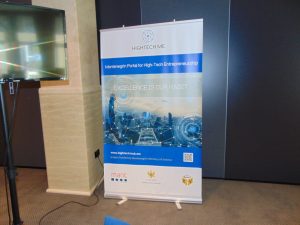 Učesnici konferencije su, potom, mogli da postave željena pitanja u cilju bližeg upoznavanja sa projektom.
Video prezentacija projekta: