"Igre prijestola" je postala jedna od najvećih TV emisija ikada prikazivana. Sa pravom to i jeste postala, kad pogledamo dužinu serijala, fanstastičnu priču, kostime, neizvjesnost i naravno zmajeve.
O čemu se ovde zapravo radi? Jedan švedski start-up program pod nazivom Ceratai istražio je koliko su zastupljeni govori kojih likova u serijalu. I došli su do podataka da muški likovi imaju oko 75% a ženski samo 25%. Najveći brbljivac je Tirion Lanister, njega slijedi Džon Sniježni i onda dolaze Sersei i Deneris.
Ceretai je koristio metodu mašinskog učenja za analizu različitosti u govoru. Njihov algoritam naučio je da prepozna razliku između muških i ženskih glasova u videu i pruža dužinu vremena govora u sekundama i procentima po rodu. Kao i većina automatskih sistema, on svaki put ne donosi ispravnu odluku. Tačnost ovog algoritma je oko 85%, tako da bi brojke mogle biti malo veće ili niže od predstavljenih.
Neki od podataka pokazuju da su muški likovi skloni da u svojim linijama teksta imaju više muški usredsređenih riječi, kao što su ljudi, čovjek, kralj i Lord. Ali za ženske likove, češće riječi su bile ljubav, otići, molim te, muž i gospodar.
Dalje pogledajte nekoliko grafika koji su dobijeni ovom analizom i daju zanimljive rezultate.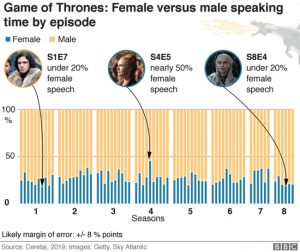 Slika br.1 Najviše ženskog govora je bilo u seriji 5, četvrte sezone – First of His Name.
Slika br.2 Prisutnost ženskog govora po sezonama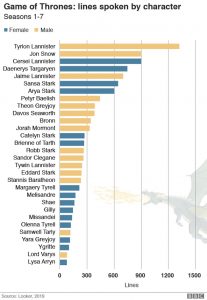 Slika br.3 Broj linija teksta po likovima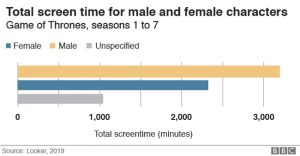 Slika br.4 Broj provedenih minuta u prvih sedam sezona
Izvor: automatika.rs